Introduction
Samastipur became a district on November 14, 1972. Earlier it was a subdivision of the Darbhanga district. The district is surrounded by Darbhanga in north, Patna in south, Begusarai in east and Muzaffarpur and Vaishali in west. It has four sub-divisional towns, Samastipur, Dalsingsarai, Patori and Rosera.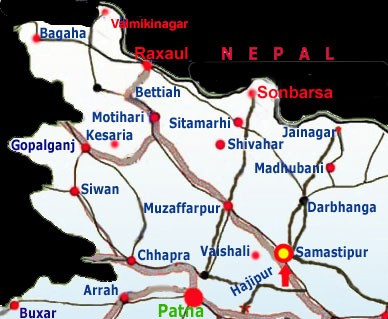 There is no forest area in the district. Most of the people are dependent on agriclulture. Cash crops like tobacco, cane, chilli, turmeric and different types of vegetables are grown here.
Samastipur district is known for reputed research institutes like Rajendra Agriculture University,Central Tobacco Research Institute and Central Cane Research Institute. Riverssuch as Burhi Gandak,Kareh,Kamla and Bagmatiflow through the district.
Places of Interest
WHAT TO LOOK FOR
Mannipur Temple
A temple of goddess Durga, it is situated about 2 km from the district HQ town, Samastipur. Thousands of devotees throng this temple during Dussehra celebrations in September-October.
Khudneshwar Sthan
It is located at Morwa, about 15 km from Samastipur town.
Khatushyam Mandir
A temple of Lord Krishna, situated near Gola Road in Samastipur.The temple witnesses a huge rush of devotees during Janmashtami celebrations.

HOW TO REACH
Samastipur is connected with National Highway – 28 by road. It is one of the divisional head quarters of East Central Railway. The distance between Samastipur and Patna is 180 km.

By Air:

Nearest Airport
Jaiprakash Narayan International Airport, Patna (98 kms) Gaya International Airport, Gaya (About 195 kms)

By Rail:

Nearest railhead
Samastipur

By Road:
Connected by good roads with all Indian cities.

Where to Stay:
Hotel Sagar International, Rambabu Chowk, Samastipur. Phone: 225908
AC and non-AC rooms and suites available;tariff ranging from Rs 400 to Rs 1,500.
Hotel Swarg, Magardahighat Road, Samastipur. Phone: 225603
AC and non-AC rooms and deluxe rooms available;tariff ranging from Rs 350 to Rs 1,650.
There are many roadside dhabas offering good food at nominal rates.
Emergency, Contact
District Magistrate: 222300 (Off), 222301 (Res), 9431807123 (Mobile)
Superintendent of Police:222034 (Off), 222350 (Res), 9431822993 (Mobile) Town Police Station: 222533
Medical Emergencies, Contact Dr A K Aditya: 222868, 9431089697
DR A K Sahu: 222269, 9431245957
Dr G C Karn: 223252, 9431245151
Dr R RJha: 223711, 9431245345
Dr Sarojini Issar:222267
Dr ShabnamGupta:222862, 9431245345

Local Transport:
Auto rickshaws, Cycle-rickshaws, tangas.

Tourist Season:
October to March.

Clothing:
Light cotton in summer and woolen in winter (specially during November to January).