Introduction
Saharsa, now a divisional headquarter situated nearly 272 km away from the state capital Patna, was a part of Bhagalpur district in the pre-independence days. Carved out as a separate district in April 1954, Saharsa has been a place of attraction for the tourists mainly because of its historical, religious and cultural heritage.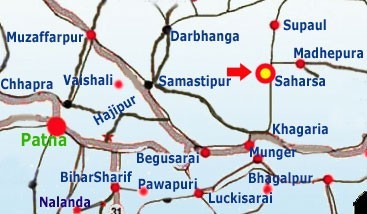 In 1905,a copper platewas discovered from Bangaon village which is said to have brought to light a new history of the Pala dynasty. Archaeological remains are scattered in different parts of the district.
Places of Interest
WHAT TO LOOK FOR
Mahishi TaraTemple
Seventeen km from Saharsa,Mahishi village is known for an ancient temple of goddess Ugra Tara which is also believed to be a Shakti peetha.The legend has it that the right eye of Sati had fallen here.The temple has a three-ft-Iong statue of Tara,accompaniedby two other deities, Ekjataand Neel Saraswati,on the two sides.
The temple is associated with Tantrik cult where saints and other devotees from far and wide acrossthe country assemble during the ten-day-Iong Sharadiya Navaratra for penance. Although devotees from various parts of the country visit the place throughout the year,the main attraction of the temple is Dussehrain September-October during which more than one lakh people come here to worship the goddess.
Mandan Dham
Mahishi village takes pride in being the birthplace of legendary 8th century scholarand philosopher Pundit Mandan Mishra. He along with his wife Bharati made precious contributions to Indian philosophy. It is said Mandan was the senior contemporary of Adi Shankaracharya. During his ideological conquest for the propagation of sanatandharma, Adi 5 hankaracharya visited Mahishi for a philosophical debate with Mandan.
The birth place of Mandan is an upland, though barren where people from various states, particularly those in south India, come to salute the scholar whose books Brahmasiddhi, Meemansanukramanika and Vidhi Vivek,to namea few, are the gems of Indian philosophy.
Mandan's better half, Bharati,was also a scholar par excellence and sheis believed to have once defeated Shankaracharya in debate.
Kandaha Sun Temple
About 13 km west to the district HQ of Saharsa,Kandahais a sleepy hamlet known for antiquities.There's a temple of sungod here in which nearly three-and-a-half-feet-Iong and and three-feet-wide statue of sungod is exquisitely shown riding seven horses with many other deities on both sides.
The peculiarity of the temple is an inscription on the marginal threshold of the sanctum sancto- rum which, already deciphered, establishes that the temple dates back to the 14th century. The emple, built by the king of the Oinwar dynasty, Narsingh Deo, a contemporary of Maithili poet Vidyapati, is the only sun temple n Bihar after the famous temple at Deo in Aurangabad district. There are two wells on the temple premises, namely Suryakoop and Chandrakoop, the sacred water of which is believed to have curative effects for leprosy and other skin diseases.
Bangaon
About nine km from Saharsa, Bangaon is an ancient village dominated by Maithil Brahmins. But the village is better known as the workplace of well-known 18th century saint poet laxmi Nath Gosai. He was a yogi,a saint and a poet who wrote and. sang religious songs which are still sung by the people of the area with great reverence. The goddess Durga temple at Bangaonis also a centre of attraction where a large number of people offer their prayers during the Navratrain September-October
Dewna Deeh
Close to Bangaon, Dewna Deeh is known for the lord Shiva temple situated here. There are many other deities in the temple.
Karu Sthan
Situated on the bank of Kosi river and hardly two km away from Mahishi Tara Sthan is a temple of folk-god Karu Khirhari who was a fighter, a yogi and a devotee of lord Shiva. He was also a great lover of domestic animals, particularly cows. Out of his reverence for lord Shiva, he had named his cows as Mahesri, Kusesri, Nakuchesri, Umesri etc. It is said Karu Baba had sacrificed his life to save a cow from a tiger.
People from various parts of Bihar and Nepal visit this temple and offer milk, vegetable and ganja to Karu Baba. On the day of Saptami during Navaratra, the temple is jampacked with tourists from far and wide. Such a huge quantity of milk is offered to Karu Baba that day that every one reaching there is fed 'tasmai', a special dish prepared by mixing rice in pure milk.
Biratpur Chandi Sthan
In ascetic circles, Tara Temple at Mahishi, Katyayaini Temple near Dhamar Ghat in Khagaria district and Chandi Temple at Biratpur village under Sonbarsa block of Saharsa district form a holy triangle (trikonyantra) which is of special reverence in the Tantrik cult of worship. Goddess Chandi is another form or incarnation of goddess Durga. Nearly 35 km away from Saharsa, Biratpur is also associated with the Mahabharata legend of King Birat. There is a big mound near the temple which is believed to be the place where the Pandavas had lived for twelve years during their exile.
Matsyagandha Complex & Raktakali Temple
A separate temple of 64 mahayoginis, believed to be rare in India and sacred in Hindu pantheon, is the special attraction of the site where also exists a beautiful temple of Raktakali, built on the pattern of monastery architecture. There's also a huge pond which offers water sport facilities. The opening of a tourist hotel, Hotel Koshi Bihar, has added to the attraction of this spot. People come from different places for offering puja to the goddess Kali during Diwali festival. The state government celebrates the occasion as a state festival.
HOW TO REACH:
Saharsa has been connected with road and rail links. There are two daily trains from Patna, two weekly and bi-weekly trains from Delhi and a tri-weekly train from Kolkatato Saharsa. Peoplealso come to Saharsaby road asthe place has been linked with the national highway.

By Air:

Nearest Airport:
Gaya International Airport (About 308 kms) Jaiprakash Narayan International Airport, Patna (234kms).

By Rail:

Nearest railhead
Dauram Madhepura

By Road:
Connected by good roads with all Indian cities.

Where to Stay:

Government Circuit House
PWD Inspection Bungalow
Kosi Project Inspection Bungalow
Hotel Kosi Bihar
(Owned by Bihar State Tourism Development Corporation) Hotel Kosi Niwas
Hotel Vijeya
Hotel Embassy
Hotel Satkar
AC and non-AC rooms are available with tariff being moderate.
WHERE TO EAT: Dozens of local hotels, restaurants and dhabas are there in the city.
Government Circuit House
PWD Inspection Bungalow
Koshi Project Inspection Bungalow
Hotel Kosi Bihar (Owned by Bihar State Tourism Development Corporation)
Hotel Kosi Niwas
Hotel Vijeya
Hotel Embassy
Hotel Satkar

Local Transport:
Auto rickshaws, Cycle-rickshaws, tangas.

In Emergency, Contact, STD Code: 06478
Divisional Commissioner: 224984 (Off), 223604 (Res), 9431243377
Deputy Inspector General of Police: 223488 (Off), 223688 (Res), 9431012708
District Magistrate: 224102 (Off), 223601 (Res), 9431243600
Superintendent of Police: 224556 (Off), 225554 (Res), 9431602642

Medical Emergencies,Contact, STD Code:06478
Dr. A.K.Issar: 223525, 225291
Dr. Anil Kumar Pathak: 223673, 223693, 9431243002
Dr. A.K.Mishra: 224314
Dr. B.N.Mishra: 224696
Dr. A.K.Choudhary: 224620, 223363

Tourist Season:
October to March.

Clothing:
Light cotton in summer and woolen in winter (specially during November to January).