Introduction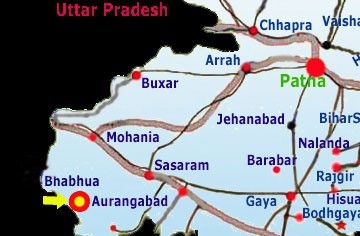 Sasaram, the headquarters town of Rohtas district, is steeped in history. It is an important railway station between Mughalsarai and Gaya. The station has a stoppage of all the important trains. The Grand Trunk Road also passes through the town.
WHAT TO LOOK FOR

Tomb of Sher Shah
The magnificent mausoleum of Sher Shah in the town is one of the noblest specimens of Pathan architecture in India. It stands in the middle of a tank.
Rohtas Fort
One of the most interesting places in Bihar is the ancient hill fort situated on Kaimur hills, some 1490 ft above sea level. It is 70 km away from Sasaram.
Tomb of Hasan Khan Suri
In the centre of the historical town is the mausoleum of Hasan Khan Suri, the father of Emperor Sher Shah (1538 AD).The tomb consists of an octagonal hall surmounted by a large dome and is surrounded by an arcade which is crowned on each side by three small domes.
Tomb of Salim Shah
In the middle of a large tank, about half a mile to the north-west of Shershah's tomb, is situated the tomb of his son, Emperor Salim Shah.
Tomb of Alawal Khan
Outside the town to the south is the tomb of Alawal Khan. Khan was the officer in charge of the building of Sher Shah's mausoleum and took advantage of his position to appropriate the finest stone for his own tomb.
Mundeshwari Mandir
Mundeshwari temple is one of the oldest Hindu monuments in Bihar. It is located on the summit of an isolated hill, seven miles north west of Bhabhua, the headquarters town of Kaimur district. Kaimur is adjacent to Rohtas. The nearest railway station is Bhabhua Road. The temple is in the shape of an octagon. Octagonal ground plan for a temple is rather rare.
HOW TO REACH

By Air:

Nearest Airport
Jaiprakash Narayan International Airport, Patna (147kms) Gaya International Airport, Gaya (About 125 kms)

By Rail:

Nearest railhead
Sasaram

By Road:
Connected by good roads with all Indian cities.

Where to Stay:
Hotel Sher Shah, a unit of Bihar State Tourism Development Corporation, Phone: 221267 AC rooms and restaurant facility available
Hotel Gopal Deluxe, Phone: 224366
Hotel Jaya, Phone: 221277
Hotel Vijay, Phone: 222323
Emergency, Contact
District Magistrate: 222226 (Off), 222224 (Res), 9431632414 (Mobile)
Superintendent of Police: 253204 (Off), 253205 (Res), 9431822978 (Mobile)
Medical Emergencies,Contact Anjani Arogya Institution: 221215
Civil Surgeon: 222039
Chauhan Fracture Nursing Home: 222101
Gayatri Nursing Home: 222488


Local Transport:
Auto rickshaws, Cycle-rickshaws, tangas.

Tourist Season:
October to March.

Clothing:
Light cotton in summer and woolen in winter (specially during November to January).