Introduction
Prior to bifurcation of Siwan and Gopalganj districts in 1992, Saran district with its HQ at Chhapra was one of the biggest and oldest districts of Bihar. The meaning of the word "Saran" corresponds to "asylum" or "refuge" in English. Chinese traveller Xuanzang also refers to Saran in his memoirs.
By 1666, the Dutch established their trade in saltpetre at Chhapra. Prior to 1905, Saran was part of Bengal, Orissa and Assam. It continued to be part of Orissa till 1936.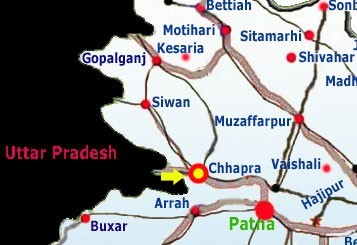 Places of Interest
WHAT TO LOOK FOR
Sonepur
Situated at the confluence of holy rivers Ganga and Gandak, the place is important because it was here that Lord Vishnu and Lord Shiva are said to have resolved the fight between Gaj (elephant) and Grah (crocodile). World famous Harihar Kshetra Mela, organised every year at this place, has been the centre of attraction for domestic and foreign visitors for years. The place is about 50 km east of Chhapra town, 10 km west of Hajipur town and about 30 km south of Patna. It is well connected by road and rail.
Aami
It is the place where Maharaja Daksha and King Surat practised asceticism. This place has been famous for the temple of goddess Durga. It is located 28 km east of Chhapra town and about 50 km west of Patna. The nearest railway station is Dighwara.
Chirand
It is situated 10 km east of Chhapra, the district HQ of the Saran district, and the same distance south off the Sonepur-Chhapra road. The discovery of the neolithic culture in 1970 in the Ganga valley was very significant as till then no neolithic signs had been found in course of archaeological excavations in northern India. In Chirand, we have for the first time a neolithic complex in low-lying plains with monsoon climate. 'Bangali Baba Ka Mathia' here is an added attraction.
Silhouri
Situated about 26 km north of Chhapra, this is the place where Indra and Yamraj took a test of King Shivi. The nearest railway station is Marhoura on Chhapra-Thawe rail route.
Revelganj
It is situated on Chhapra-Gazipur National Highway. There are several temples located between eight and thirteen km from Chhapra. Srinath Temple is one of the important places. On the eve of Kartik Purnima, a month-long fair, Godhna Semaria Mela', is organised here every year.
Chhapra Town
Dharmanath temple, Peerbaba Ka Mazar, Ramkrishna Mission Ashram and Parwati Ashram are some of the important places of the town.
SONS OF THE SOIL
Among the celebrities and freedom fighters, India's first president Dr Rajendra Prasad, Loknayak Jayaprakash Narayan, Maulana Mazharul Haque, Bhikhari Thakur, Padmashree folk singer Vindhyavasini Devi all belong to Saran.
HOW TO REACH

By Air:

Nearest Airport
Jaiprakash Narayan International Airport, Patna (77 kms) Gaya International Airport, Gaya (About 174 kms)

By Rail:

Nearest railhead:
Chhapra is well con-nected by road and rail. Chhapra Junction is one of the important stations of North Eastern Railway.
Buses ply regularly from Patna, Hajipur and Muzaffarpur to Chhapra. Roads are in good condition. It's a two-hour drive from Patna.

By Road:
Connected by good roads with all Indian cities.

Where to Stay:
Hotel Ramdoot, Hotel Coffee House, Hotel Guru Mahima, Hotel Plaza and Hotel Rajasthan are some of the important hotels at Chhapra where rooms are available at moderate rates.
WHERE TO EAT: Mac-Ronalds, Zayaka, Dejee and Nakshtra are some of the important eateries of Chhapra town.

Local Transport:
Auto rickshaws, Cycle-rickshaws, tangas.

Tourist Season:
October to March.

Clothing:
Light cotton in summer and woolen in winter (specially during November to January).