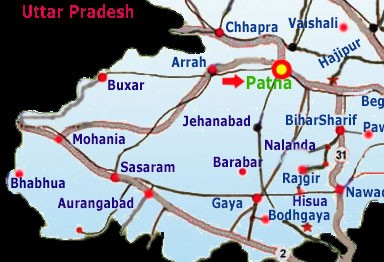 Introduction
Patna, which in the ancient times was known as Pataliputra, is the capital of Bihar. The city is among the world's oldest capital cities with unbroken history of many centuries as imperial metropolis.


The history and heritage of modern-day Patna go back well over two millennia. The city of Patna is a very fertile stretch of land along the bank of tbe river Ganga.
Places of Interest
WHAT TO LOOK FOR

Patna Museum

Set up in 1917, the Patna Museum is one of the few grand museums in India, and is committed to offering a scientific vision to understand the evolution of history. As a repository of ancient glory, Patna Museum is, however, truly the cultural pride of Bihar.
This museum has the privilege of preserving the holy relic casket of Lord Buddha which contains his ashes and other materials discovered during the excavation of a stupa belonging to sixth century BC at Vaishali. Among the stone sculptures, a special mention must be made about the famous female figure of the Mauryan period, third century BC. Discovered at Deedarganj (Patna), the magnificent statue is popularly known as Deedarganj Yakshi. The museum also possesses the biggest collection of copper hoards discovered from various parts of Jharkhand and Bihar.
Museum opens: 10.30 am to 4.30 pm
Closed: On Mondays
Entry Fee: Rs 10
Special fee to see holy Buddhist relic: Rs 100
Phone: 2911190

Golghar

Golghar, an enormous granary, was built by Captain John Garstin for British army in 1786, after the terrible impact of 1770 famine. The massive structure is 29 m high and the walls are 3.6 m wide at the base. The winding stairway around this monument offers a brilliant view of the city and the Ganga flowing by. Entry is free.

Karpoori Thakur Museum
Bihar government has declared 1, Deshratna Marg, the official residence of former state chief minister the late Karpoori Thakur, a memorial museum to commemorate the life, achievements and philosophy of Late Thakur. The Jananayak Karpoori Thakur Smriti Sangrahalaya displays and preserves articles of daily use, clothes, documents, letters, diaries, writings and several other things that belonged to the former chief minister.
Entry: Free
Monday closed
Phone: 2222537

Martyr's Memorial

The Martyrs' Memorial is a memorial to the seven freedom fighters who sacrificed their lives during the Quit India Movement in 1942. The memorial is a modern sculpture facing the Bihar's State Legislature building where they were shot while making an attempt to unfurl the national flag.

Jalan Museum

Jalan Museum at Patna City was built by Late Diwan Bahadur Radha Krishan Jalan in the year 1954. It is a private museum, and the collection of art objects – numbering about 10,000 – belongs mostly to the modern period. They include objects of stone, metal, ivory,glass and porcelains. The museum also contains impressive private antiques, including a dinner service that once belonged to George III,Napoleon's bed, Chinese jade and Mughal silver filigree.
Entry: Prior permission is required.

Patthar-Ki-Masjid

Patthar Ki Masjid is situated on the bank of the Ganga. This beautiful mosque was built by Parwez Shah, son of Jehangir, when he was the governor of Bihar. It is also called Saif Khan's Mosque, Chimmi Ghat Mosque and Sangi Masjid.

Folk Art Museum
This museum, set up in the year 1963, has on its shelves folk musical instruments, costumes and jewellery. It is located at Bharatiya Nritya Kala Mandir at Chhajjubagh. Its collection also includes terracottas and ceramic specimens dated between 500 BC and 500 AD.
Entry: Free

Gandhi Sangrahalaya

The Gandhi Sangrahalaya was set up near the Gandhi Maidan in the year 1967. It is one of a few institutions established by the authorities of the Gandhi Smarak Nidhi.The exhibits in the museum include photographs and documents etc concerning the life and achievements of Mahatma Gandhi. The Sangrahalaya has its own building on the bank of the Ganga.
Entry: Free
Phone: 2219339,2218260, 9430246317
Email: info@gandhisangrahalaypatna.org

Rajendra Smriti Sangrahalaya
The Rajendra Smriti Sangrahalaya was set up in 1963 in memory of Dr Rajendra Prasad, the first president of India, with his belongings of daily use and articles received as gifts and presents. The Sangrahalaya was started in the same building at Sadaqat Ashram, the Bihar head quarters of Congress party, in which' Dr Prasad resided after his retirement from the office of the President till the end of his mortal life.
Entry: Free
Srikrishna Science Centre
A science museum was established in Patna in the year 1978 which was named as Srikrishna Science Centre after Bihar's first chief minister Sri krishna Sinha. Located at Chhajjubaghon the south western corner of the Gandhi Maidan,it has been set up with an objective to benefit the public,particularly students of schoolsand colleges.This institution is a unit of the National Council of Science Museums, an autonomous body under the Governmentof India'sministry of culture.

Shaheed Suraj Narain Singh Museum
4, Beer Chand Patel Marg
Entry: Free
Opens: 10.30 am to 4.30 pm
Monday closed

Bihar Police Museum

This police museum is located on the northern side of the Jawaharlal Nehru Marg near the Patna Golf Club. It has a collection of old arms and ammunition, uniforms and other objects handled and used by contemporary police officials.

Planetarium

Indira Gandhi Science Complex is one of the major attractions in Patna. It is located on Bailey Road.
Entry: By ticket

College of Arts & Crafts

This college was set up on January 25, 1939 at Govind Mitra Road, Patna by late Radha Mohan. India's first president Rajendra Prasad was the first member of the management committee of the college. In 1949, the Bihar government took over the college, and as government's School of Arts & Crafts, it used to offer a five-year diploma course. In 1957, the school was transferred to its newly-constructed building at Vidyapati Marg in Patna. In 1972, it was renamed College of Arts & Crafts. On April 12, 1977, the college was handed over to Patna University and its diploma course was converted into a degree course. The college, located at a distance of nearly one km from Patna railway station, is an institution for advanced training in visual arts (creative and applied).

Sanjay Gandhi Biological Park

Sanjay Gandhi Biological Park is a famous zoo in the state. Of late, it has also become a favourite spot for joggers and walkers. Children can enjoy toy train ride, boating and elephant ride. There are a large number of animals and reptiles in the zoo.
The zoo remains closed on Mondays. One has to pay an entry fee though entry is free for joggers from 4.30 am to 7.30 am and 4.30 pm to 7 pm.

Clubs

Bankipore Club

Bankipore Club, the oldest in Patna, was founded on the bank of river Ganga at Patna in 1865. It is one of the oldest premier clubs in the country. It derives its name from 'Bankipore' or 'Bankipur' which was the name of the civil station of Patna district.
The Ganga flows beside it. Coconut and Christmas trees along with a sprawling lawn over looking the expanse of water flowing by provide a picturesque beauty to the club. The club provides a vast range of amenities. The old dancing hall with wooden floor, which is now often used to host wedding receptions, parties and other functions, was a hotspot in the years of yore.
The weekend cinema show is still a regular event in the club calendar. There are two lounges and two bars, including an open air bar called 'Hawa Mahal'. Two canteens and an airconditioned restaurant provide a variety of dishes. There are separate rummy rooms for smok- ers and non-smokers, the latter being an airconditioned one. The bridge and billiards rooms too are airconditioned. With tennis and squash courts along with a swimming pool and table tennis tables, the Bankipore Club offers a variety of sporting facilities.
Housie is another weekend favourite event in this club which also has three well maintained visitors' rooms for visitors to the city. The club is affiliated to over a hundred clubs and resorts. Members of outstation clubs affiliated to Bankipore Club can avail themselves of the Bankipore Club's facilities when visiting Patna.
Agreat place for networking, where business mixes merrily with pleasure. And, you bet, it surely makes a heady cocktail.
Location: In the heart of the city, near Patna District Magistrate's office
Entry: Only for members
Patna Golf Club

The beginning of the Patna Golf Club is traced to the lease grant of 165 acres of land, west of the Government House (now called Raj Bhawan), to the South Bihar Gymkhana Club by the then government of the province of Bihar and Orissa in 1916. The club was kept alive by a handful of persons from the city's upper echelons of society even after the British left. Several top mercantile houses chipped in to sustain and develop the club. By April 1968, twenty-five people formed a small organisation with a membership fee of Rs 10 per month. The group included Prem Seth, whose son Vikram was to later pen 'A Suitable Boy', a best selling novel about a Patna story.
A boundary was erected to make it an independent adjunct to the Patna zoo. A club house with approach road also came up, and the golf course was redesigned to cover 18 holes.
The club is currently spread over 102 acres of greens which, lying in the midst of the city, also provides a lung to Patna. Now the club has over 500 members. The club house is very popular among members and their families who can be seen enjoy the winter sun or chilling out in the spacious bar in the evenings. The food served at the club house is among the city's I best, it is Bihar's most happening club now. Events: New Year's Day, Christmas, special sponsored.
cultural events
Entry: Only for members
location: Bailey Road
Phone: 2287089
New Patna Club
With the establishment of the high court at Patna in 1917, the English judges and English-educated barristers took the initiative to set up a new club (patna already had Bankipore Club) where there would be no segregation and the Indian and the English, virtually all being judges and lawyers of the Patna High Court, would be able to mingle and socialise without any ethnic complexes.
On New Year's Day in 1918, judges E P Chapman and F Roe, Mazharul Haque, Syed Sultan Ahmed, Syed Hasan Imam, P R Das and Sachchidanand Sinha met Sir Edward Albert Gait, the then lt Governor of Bihar and Orissa, and within a fortnight a plot of land extending from the present Beer Chand Patel Path, then called Gardiner Road, was selected and leased out for the club on an annual rental of Rs one. But the plot was less than required. Sir Sultan Ahmed then came forward to help by surrendering a large portion of the land from the compound of his Sultan Palace adjoining the club land.
This club was named New Patna Club. Duly registered in March 1918, the club was formally established the following year, 1919. It was essentially an evening club where people activated .the day's club life with a game of tennis in the afternoon. This was followed by the arrival after sunset of members fond of billiards, bridge. A quiet drink in the bar and perhaps dinner rounded off the evening well spent.
The lush green grass courts of New Patna Club were to even host a Davis Cup tie between India and Pakistan later. The club house has lounges and a family room too. The well-stocked bar and the sprawling lawns, tennis courts and the large swimming pool, which was added later, add to the beautiful ambience of this club. It has also emerged as a favourite venue to host wedding receptions in this fast-expanding city where open space is now at a premium. New Patna Club is affiliated to 63 top clubs across the country.
Events: Regular cultural shows, special programme during festivals
Location: Beer Chand Patel Path, opposite MIller school
Entry: Only for members
Phone: 2222245
Khuda Bakhsh Oriental Public Library

Khuda Bakhsh Oriental Public library has put the city of Patna prominently on the global intellectual map. It is a unique repository of the past heritage, preserved in the form of manuscripts written on paper, palm leaves, deer skin, cloth and sundry materials. At the same time, it has a modern face, housing over 2.S lakh books in Arabic, Persian, Urdu, English and Hindi besides a few in German and French, also in punjabi, Japanese and Russian.
It is administered by a governing board, of which the governor of Bihar is ex-officio head. The government of India's ministry of culture provides funds for the maintenance of this library.
Over the last few decades, the library has grown considerably. It has now a collection of over 21,000 manuscripts in different languages – Arabic, Persian, Urdu, pushto, Sanskrit and Hindi. The list of eminent visitors to the library is unending. The library also has a collection of about 40 Sanskrit manuscripts, written on palm leaves; some are in 'Mithilakshar' also. Three of these are unique in significance, including one which is a five-century-old collection of 'Upanishadas'.
It has also a copy of Lord Byron's 'Ode to Napoleon', wherein two additional stanzas have been added in what is considered to be Byron's own handwriting. There is also a diary of Napoleon Bonaparte.
Library opens: 9.30 am to 5 pm
Reading room opens: 8 am to 8 pm
Closed: On national holidays and Fridays
Entry: Free
Phone: 2300209 (Library), 2301507 (Director)
Fax: 2300315
Email: kblibrary.nic.in

Kumhrar

Kumhrar, the site of the ancient city of Pataliputra, lies five km away from Patna railway station. Archaeological findings in this area establish Patna's claim to over a thousand years of political glory – 600 BC to 600 AD. The place contains the ruins of the ancient city. Very little of this grandeur remains though, except for the remains of a huge Mauryan Hall supported by 80 sandstone pillars dating back to 300 BC.

Maner

Manersharif is situated in the extreme northwest of Danapur sub- division, about 32 km west of Patna on the Patna-Ara highway. Manersharif is the most important and oldest centres of Sufis in Bihar. Tombs of several Sufi saints, including the mausoleum of Shah Daulat, a contemporary of Akbar and Jehangir, are located here.
In the early ages, Maner was a centre of learning and it is said that grammarian Panini, and also I Bararuchi, lived and studied here.
Bihar State Tourism Development Corporation has a guest house at Maner.

Begu Hajjam's Mosque
Begu Hajjam's Mosque is located in Patna City (old city) region. It lies on the roadside to the east of Khajekalan Ghat. This mosque was originally built by Alauddin Hussain Shah, founder of Hussaini dynasty in Bengal (1489) and was repaired and renovated in 1646 by a barber named Begu Hajjam, who gave his name to it.
Phulwari Sharif
Phulwarisharif, seven km from Patna, is another important centre of the Sufis.The 'Khanqah Mujeebia', founded in the 18th century by Pir Mujib, still commands a large popular following. It has been always a favourite abode of Sufi saints in various times. Sacred hair of the beard of Hazrat Muhammad Saheb is preserved here in the 'Bari Khanqah' that attracts thousands of his followers. Abig fair is held here every year.
Meetan Ghat
'Khanqah Munimia' at Meetan Ghat in Patna City (old city) is another 18th century Sufi centre which still attracts many. A beautiful double-storied mosque was built by Mughal Prince Azim on the bank of the river Ganga at Meetan Ghat in Patna City that was called Azimabad during the reign of Mughal emperor Aurangzeb. Every year, after five days of Eid festival, an Urs Chiraga is held here for which many people assemble at this place.
Mangal Talab
'Khanqah Emadia' at Mangal Talab in Patna City is a branch of the 'Khanqah Mujeebia', and has a history of about a century. An Urs is held here annually when thousands of people assemble and pay their respect to their beloved Sufi saint. A large number of tourists, including pilgrims from Pakistan and Bangladesh, visit these Sufi sites.
Mahatma Gandhi Setu

Gandhi Setu is Asia's longest road bridge. Situated across the river Ganga, it connects Patna with Hajipur.

Old Opium Warehouse
The Old Opium Warehouse is located on the bank of river Ganga at Gulzarbagh. This opium warehouse was constructed by the East India Company and is now used as the government printing press. Visitors can enter the three buildings where opium was packaged before being sent by boat to Kolkata during pre-independence days.
CHURCHES OF DANAPUR
Churches of Danapur Cantonment have stood as silent spectators to the happenings' around for over two centuries. St Lukes Church and St Stephen's Church were built in the mid- dle of the 18th century at Danapur Cantonment, some 10 km from Patna. Britishers raised six regiments at Danapur during 1756 to 1825 and, as such, the place became a home to a good number of British officers owing allegiance to the Church of England. Establishment of churches here, thus, became inevitable.
St Luke's Church
St Luke's Church is one of the oldest churches in Bihar. Spread over an area of one acre, its construction started in April 1827 and it was completed in 1830. The church, known for its marvellous carvings on the wooden sheets, was originally a big hall with the sitting capacity for 400 people. Plaques installed on the walls record the history of the Cantonment. The British Retreat in Kabul and the First War of Independence in 1857 come alive on these plaques, dedicated to the memory of Lt A S Bechar who fell victim to the bullets of mutineers in Lucknowon October 9, 1857.
St Stephen's Church
St Stephen's Church is another church in Danapur Cantonment. It was completed in 1854 under the supervision of Italian priests. The earthquake of 1934 badly damaged its walls. Its furniture, pews and lectern date back to 1885. A unique feature of this church is its Baptismal font, which is made of wood. Every artistic piece bears the symbol of the Cross. The brass flower pots and candelabra here are 137 years old. During the first war of independence in 1857, sisters of St Joseph with children took shel- ter in this church to save their lives. They stayed in the church till August 1857. However, Mother Josephine and her sister Mathide Koch died during their confinement.

HOW TO REACH
Patna is well connected by airways, roadways and railways to other parts of the country. Air: There are direct flights to and from Kolkata, Delhi, Mumbai and Ranchi. Railway: All important trains to and from all major stations of the country have stoppages in Patna. Road: All-weather motorable roads connect Patna with the rest of Bihar. There are regular inter-state and intra-state bus services.

By Air:

Nearest Airport

Jayaprakash Narayan International Airport, Patna Gaya International Airport, Gaya (97 kms).

By Rail:

Nearest railhead
Patna Junction; Danapur Junction; Patna Sahib Junction.

By Road:
Connected by good roads with all Indian cities.

Where to Stay:
Kautilya Vihar, Beer Chand Patel Path, Patna. Ph: 2225411, 2216219; Fax: 2236218
Hotel Patliputra Ashok, Birchand Patel Path, Ph : 2224207/2505270-76
Hotel Samrat International, Fraser Road, Patna. Ph : 2220560-68, 2221856
Hotel Maurya, Fraser Road, Patna, Ph : 2203040-59
Hotel Chanakya, Birchand Patel Path, Ph : 223141/2223142, 2222167 .
Hotel Mamta, Dak Bunglow Chowk, Patna Ph: 2221311, 2230411
Hotel President, Fraser Road, Patna, Ph : 2209200-05, 2209203-04
Hotel Rajasthan, Fraser Road, Patna, Ph: 2225102-03
Hotel Magadh, Station Road, Patna, Ph: 2321278/9939766231
Hotel Windsor, Exhibition Road, Patna, Ph : 2203250/9204275699
Hotel Sarvodaya, am Nanda, Rajendra Path, Patna, Ph : 2322411-13
Hotel Satkar International, Fraser Road, Patna, Ph : 2220551, 2220556
Nirvana Cottage, B-Block, White House, Budh Marg, Patna,
Ph : 2237117/9835047633/9334023322
BSTDC HOTEL:
Kautilya Vihar, Beer Chand Patel Path, Patna
3 km from Patna airport, 1 km from Patna railway station
Phone: 2225411,2216219; Fax: 2236218
AC/non-AC rooms and dormitory available
Restaurants:
DosaPlaza,Biscomaun:3240755
Boliywood Treat, Maurya Arcade: 2203040 Roti, Boring Road: 9334651612
Mamata Regency(with bar), FraserRoad: 2225888
BuddhaVihar,PatnaJunction: 2204555
NalandaVihar,PatnaJunction: 2206444
Hotel Samrat International: 2220590
MarwariAwas Griha (pure veg): 2220625
Amrapali Restaurant, Beer Chand Patel Marg: 2229272
Madira (with bar), Fraser Road: 2220590
Motels:
Mamata (with bar), Bakhtiarpur, 40 km from Patna
Guest Houses:
There are several government owned and private guest houses where rooms are available at affordable rates:
CircuitHouse,BeerChand PatelMarg,Patna
NHInspectionBungalow,near Patnaairport
Zoo Guest House, inside Patna zoo
State Guest House (for WIP guests)
Central public sector undertakings including NTPC, NHPC, PGCILhavetheir own guest houses in Patna
Bihar State Electricity Board Guest House, Patel Nagar
Bihar State Legislature Guest House, Legislature complex
IPS Officers' Mess, BaileyRoad
SBI Guest House, Bank Road
Patna Youth Hostel, Fraser Road (only for members)
Cultural Centres:
Kalidas Rangalaya, near Gandhi Maidan
Premchand Rangshala, Rajendra Nagar
Bharatiya Nritya Kala Mandir, Chhajjubagh
South Indian Cultural Association (Bharati Mandapam), Vidyapati Marg
Open AirTheatre, Bharatiya Nritya Kala Mandir
S KMemorial Hall, Gandhi Maidan
Anjuman Islamia Hall, Ashok Rajpath
Ravi Bharati Institute, Kurji
IMA Hall, Gandhi Maidan
Vidyapati Bhavan, Opposite Patna Museum
Rabindra Bhavan,Beer Chand PatelMarg
lala lajpat Rai Bhavan, Chhajjubagh
lady Stephenson Hall, near Patna Museum
Emergency, Contact
Bihar Director General of Police: 2217833 (Off), 2268168 (Res), 9431602301 (Mobile)
IG of Police, Patna: 2219406 (Off), 2233323 (Res), 9431822950 (Mobile)
Senior Superintendent of Police, Patna: 2214318, 2219717 (Off), 2320047, 2321467 (Res), 9431822967 (Mobile)
Superintendent of Police (City), Patna: 2219423 (Off), 2219041 (Res), 9431822969 (Mobile)
Medical Emergencies, Contact Rajeshwar Nursing Home, Kankerbagh: 2367206
Kurji Holy Family Hospital, Digha: 2262540, 2262516
Alok Nursing Home, Khajanchi Road: 2302244, 2302245
Magadh Nursing Home, Rajendra Nagar: 2691515, 2691500, 2690046
Getwell Hospital, Raja Bazar: 2286530, 2289309
Jeevak Heart Hospital, Rajendra Nagar overbridge: 2365814, 2345895
Hai Medical Research Centre, Raja Bazar: 2295533, 2295981
Heart Hospital, Kankerbagh: 2367997, 2356202

Local Transport:
Regular city buses run within the municipal area of Patna You can hire auto-rickshaw or taxi from the airport, railway station and bus stand, please bargain hard.
Most popular mode of conveyance in the city is autorickshaw. For any information and assistance, contact Bihar State Tourism Development Corporation (BSTDC)' Hotel KautilyaVihar,BeerChand PatelMarg,Patna(Phone: 2225411, 2216219 Fax: 2236218)

Tourist Season:
October to March.

Clothing:
Light cotton in summer and woolen in winter (specially during November to January).