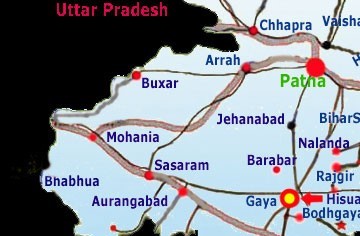 Introduction
Gaya, one of the oldest districts of the state, was created on October 3, 1865. The place is of utmost religious importance for Buddhists as well as Hindus. It was at a distance of 14 km from the district HQ that about 2500 years back, Siddhartha Gautama, a wandering prince from the neighbouring Himalayan kingdom, attained enlightenment to become Lord Buddha.
For the Hindus too, the place is very important as it is associated with the final salvation of the soul. The performance of the 'pindadaan' rituals is mandatory for the salvation of souls. The Vishnupad temple, located here, is a very important shrine. The district is divided into four subdivisions, 24 blocks, and 31 police stations.
Places of Interest
WHAT TO LOOK FOR

Mahabodhi Temple
Mahabodhi Temple,the seat of Buddha's enlightenment, is located at Bodh Gaya. Also located here are the Great Buddha statue, Thai Monastery, Tibetan Temple having a mega Dhamma Chakra, Muclind Sarovar and Maya Sarovar.
Dhungeshwari
Dhungeshwari, six km to the south-east of Gaya town, is the place where Buddha spent six years in meditation and it was here that the Buddhist philosophy of 'madhyam marg' or middle path dawned on Buddha. Kurkihar Another place associated with Buddha at a distance of 15 km from Gaya town.
Vishnupad Temple
Vishnupad Temple, in Gaya town, is the seat of final salvation. Though the temple is exclusively opened for the Hindus, there is a non-Hindu gate facilitating the entry of non-Hindus up to a certain point outside the temple sanctum. Patharkatti Located at a distance of 25 km from Gaya town, the place is known for its stone products crafted by sculptors of unbelievable skill. Dharmaranya or Lo-Thu-Kaba Flanked on both sides by the rivers Mohane and Niranjana, three km away from the Sujata stupa in Bakaraur, is the unique site of Dharmaranya, mentioned in Hindu and Buddhist legends. As the name suggests, it is a place in jungle which has its roots in Dwapar age. It is said that Yudhisthir after the Mahabharata war had performed yajna for purification from sins. According to Tibetan Buddhists, Lord Buddha meditated here for six years under the Peepul tree. It is a belief that this was also the site of the hermitage of Uruvela Kashyap, who had become a disciple of the Buddha.
FAIRS & FESTIVALS
'Pitripaksha' the annual festival of souls. The fortnight-long festival begins on 'Anant Chaturdashi' in September every year during which lakhs of Hindus visit Gaya to offer 'pindadaan' for salvationof their ancestral souls. 'Pindadaan' is offered here throughout the year, though.
Annual Urs
Annual Urs of Makhdum, a Sufi saint of the area, is held in the last week of 'Shaban' month of Islamic calendar.
Bauddha Mahotsav
The three-day cultural event is organised every year at the Kalchakra Maidan of Bodh Gaya.
The Mahotsava begins on January 14.
Museum, South Church Road, Gandhi Maidan
Timings: 10.30 am to 4.30 pm
Entry free
Monday closed
HOW TO REACH


Gaya is connected by direct rail link to cities like Delhi,Kolkata,Mumbai, Patna.It is 18 km to the south of the GT Road and the link road branches out of the GT Road at a place called Dobhi.

Gaya has an international airport linking it with Colombo, Bangkok and Thimpu. Many chartered planes land at the Gaya airport during tourist season.

The Bihar State Tourism Development Corporation (BSTDC) runs a bus service between Patna and Bodh Gaya. The BSTDC bus leaves Patna (near Hotel Kautilya) at 7 in the morning and 2 in the afternoon. The fare is Rs 60 per person. There is also an inter-city train service between Gaya and Patna. More than half a dozen EMU trains ply between Gaya and Patna.

Private taxis are available at the Gaya railway station. Rate is negotiable.
By Air:
By Rail:

Nearest railhead
Gaya.
By Road:
Connected by good roads with all major cities of India.
Where to Stay:
Hotel Ajatshatru, Near Gaya railway station

Phone: 2434584, Fax: 2434202
Tariff ranging from Rs 300 to Rs 900
Heritage Inn, in the middle of Gaya town
Phone: 2431009
Email: heritageinngaya@yahoo.com
Tariff ranging from Rs 600 to Rs 2500
Hotel Sujata, Bodh Gaya
Phone: 2200761, Fax: 2200515
Email: hoteLsujata@yahoo.com
Website: www.hotelsujata.com
Tariff ranging from Rs 2,800 to Rs 4,200
Lotus Nikko Hotel, Bodh Gaya
Phone: 2200700, Fax: 2200788
Email: lotusnikko_bodhgaya@yahoo.com
Tariff ranging from Rs 3,800 to Rs 8,500
Royal Residency, Bodh Gaya
Phone: 2200181, Fax: 2200367
Email: rrbodhgaya@gmail.com
website: www.theroyalresidency.net
Tariff ranging from Rs 6,000 to Rs 8,500
BSTDC's Tourist Complex,
Siddharth Vihar, Bodh Gaya
AC & non-AC rooms are available Tariff (Oct-March): Rs. 800 (AC), Rs. 600 (non-AC);
Apr-Sept: Rs. 700(AC), Rs. 500 (non-AC)
Buddha Vihar (Dormitory)
Tariff: Rs. 150 per bed (Attached bath)
Sujata Vihar (Dormitory)
Tariff: Rs. 75 per bed (Common bath)
Phone: 2200445, Fax:2200127

In Emergency, Contact, STD Code: 0631 District Magistrate: 2420005 (Off), 2420008 (Res)
Superintendent of Police: 2420003 (Off), 2420004 (Res)
Medical Emergencies
,Contact, STD Code: 0631 Civil Surgeon: 2420009 (Res)
Dr. A.N.Rai (Physician): 2433426
Dr. Pandey Rajeshwari Prasad (Surgeon): 2423009
Dr. Manju Sinha (Gynaecologist): 2422190
Local Transport:
Auto rickshaws, Cycle-rickshaws, tangas.
Tourist Season:
October to March.
Clothing: Light cotton in summer and woolen in winter (specially during November to January).