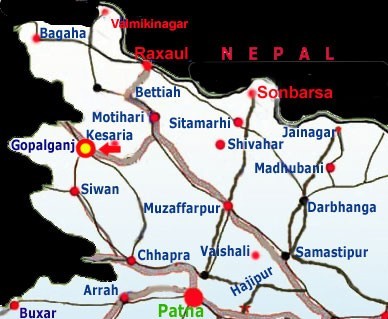 Introduction
Gopalganj district was notified as a separate district in 1973. In 1758, Fateh Bahadur Sahi, a member of Hathwa Raj, led the war of independence in the district. But he had to shift his activities to Tamkuhi as some of his associates ditched him.
Places of Interest
WHAT T0 LOOK FOR
Thawe Durga Temple
located on the Patna-Gopalganj road, Thawe's Durga Temple is visited by thousands of people every year. A huge fair is organised here during Dussehra in September-October.
Bhuri Shravar Ashram
Situated about 65 km from Gopalganj at Bhore, this Ashram dates back to the Mahabharata period.
Dhurna Kund
Situated about 20 km from Bhore town is an ancient Shiv Temple located right in the middle of river Khanua. Devotees have to reach the temple by boat. Another place of tourist importance is Amya in Kateya block, about 85 km from Gopalganj. lord Buddha had stayed here while he was on way to Kushinagar after getting enliglitenment.
LOCAL FAIR

The month-long Vaishakhi Mela at Thawe Durga Temple during Chaitra month is a major tourist attraction.HOW TO REACH

By Air:

Nearest Airport
Gopalganj is connected by road with Patna in Bihar and Gorakhpur in UP Buses ply regularly from Patna, Muzaffarpur, Siwan, Chhapra and Gorakhpur to Gopalganj. Thawe is the nearest railway station, about five km from the district HQ at Gopalganj.

By Rail:

Nearest railhead
Gopalganj.

By Road:
Connected by good roads with all Indian cities.

Where to Stay:
Hotel Vaibhav, STD Code: 06156, Phone: 226457, 225756
AC rooms with cable TV and other facilities available for Rs 600 to Rs 1160.
Ashish Hotel, STD Code: 06156, Phone: 226089
Rooms available at moderate tariff.
Kailash Hotel, Phone: 9431217090
Rooms available at moderate tariff.
There are several other private lodges and government-owned inspection bungalows where rooms are available at affordable rates.

Local Transport:
Auto rickshaws, Cycle-rickshaws, tangas.

In Emergency, Contact,STD Code: 06156
District Magistrate: 224661 (Off), 224662 (Res), 9431016567
Superintendent of Police: 224669 (Off), 224668 (Res), 9431822991
Deputy SP (Sadar): 9431800070
Town Police Station SHO: 9431822488

Medical Emergencies,Contact
Dr. shambhu Nath Singh (Cardiologist): 9431424046
Dr. S.K.Jha: 9934673813
Civil Surgeon: 9431414065

Tourist Season
October to March.

Clothing:
Light cotton in summer and woolen in winter (specially during November to January).