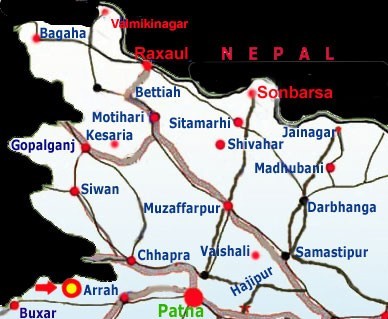 Introduction
Ara, situated 50 km west of Patna, is the district HQ town of the Bhojpur district. The area, previously known as Aranya Kshetra, has a glorious past and has many historical sites and temples.
The district is also famous for its association with Veer Kuer Singh,one of the stalwarts of 1857 rebellion – the first war of Indian independence.
WHAT TO LOOK FOR
Ara House
It is a huge and magnificent building situated near Maharaja Collegeat Ara, two km from the Ara railway station.The building is famous as Veer Kuer Singh's house. King of the erstwhile Jagdishpure state,Kuer Singh had valiantly fought the Britishersin 1857, and had kept several Britishers captivein the Ara House. Jain Museum Located 2.5 km from the railway station on Jail Road,the museum has rare collection of Jain literarytexts
Jagdishpur Fort
Situated 15 km from Araon National High way 34 is the Jagdishpur sub-divisional town which is known for being the birth place of VeerKuer Singh.Every year on April 24, the Bihar government organisesa function here to celebrate 'Vijayotsava' in memory of Kuer Singh's victory over the Britishersin 1857.
Aranyadevi Temple
Situatedat Gopali Chowk, two km from the Ara railway station, is an old and famous temple of goddess Shakti.
Chandwa
Two km west from Ara town is the birth place of former deputy prime minister of India ,Babu Jagjiwan Ram. There's a 'samadhisthal' of the great leader here.
Jain Temples
There are scores of Jain temples in and around Ara which are worth seeing.
HOW TO REACH Distance from Patna: 50 km by train; 60 km by road.
Ara is situated on the Patna-Delhi main rail route. Almost every mail and express train has a stoppage at the Ara railway station.
Ara is situated on the Patna-Buxar main road. One can take a bus or hire a taxi from Patna to reach Ara.

By Air:

Nearest Airport
Jayaprakash Narayan International Airport, Patna (55 kms) Gaya International Airport (145 kms).

By Rail:

Nearest railhead
Ara.

By Road:
Connected by good roads with all Indian cities.

Where to Stay:
Park View Hotel and Restaurant
Shahid Bhawan Road, Ara
Phone: 241312
AC and non-AC rooms are available for Rs 445-Rs 795

Regal Hotel and Restaurant
Shahid Bhawan Road, Ara
Phone: 222216
AC and non-AC rooms for Rs 425-Rs 695


In Emergency, Contact, STD Code: 06182
District Magistrate: 221312
Superintendent of Police: 221320
Town Police Station: 221561

Medical Emergencies,Contact
Dr. Bijay Kumar Singh: 9431438990
Dr. Vijay Kumar Singh: 9431027236
There are several nursing homes, private clinics and a government hospital at Ara.

Local Transport:
Hired taxis/buses/Auto-rickshaws/ Cycle-Rickshaws/ Tangas.

Tourist Season
October to March.

Clothing:
Light cotton in summer and woolen in winter (specially during November to January).