Vishnupada Temple
The Vishnupada Mandir is the 220 year old temple in Gaya, India. It is a Hindu temple, dedicated to Lord Vishnu.

This temple is located along the Falgu River, marked by a footprint of Lord Vishnu known as Dharmasila, incised into a block of basalt. The Bhumihar Brahmins have been the traditional priests at Vishnupad Mandir in Gaya as Gayawar Pandas and in the adjoining districts like Hazaribagh.[3] Several legendary saints as Ramanujacharya, Madhvacharya, Sankaradeva and Chaitanya Mahaprabhu have visited this shrine.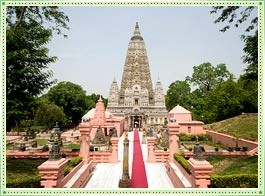 Mahabodhi Temple
The Mahabodhi Temple (Literally: "Great Awakening Temple") is a Buddhist temple in Bodh Gaya, the location where Siddhartha Gautama, the Buddha, attained enlightenment. Bodh Gaya is located about 96 km (60 mi) from Patna, Bihar state, India. Next to the temple, to its western side, is the holy Bodhi tree. In the Pali Canon, the site is called Bodhimanda,[1] and the monastery there the Bodhimanda Vihara. The tallest tower is 55 metres (180 ft) tall.


Maner Sharif
Maner Sharif is located 25 kilometres (16 mi) west of Patna on NH 30. It is the popular medieval site in Bihar. Maner enjoys position of one of the chief spiritual centers in India. Maner Sharif houses two very popular Muslim tombs:

    * One of Makhdoom Yahya Maneri known as the Bari Dargah.
    * Onother of Shah Daulat or Makhdum Daulat, popularly called Chhoti Dargah.