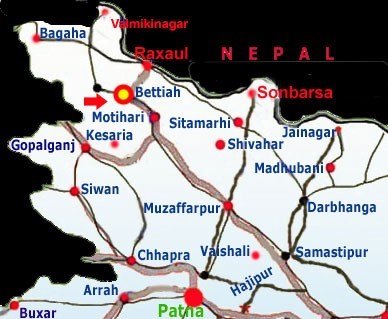 Introduction
The district of West Champaran is spread over an area of 5,229 sqkm in the northwest corner of Bihar and is a part of the Tirhut division. Bettiah is the HQ town of the district, divided into hilly tract and Terai region (largely populated by the Tharu tribe).
Bettiah is 225 km northwest of Patna. It is the birthplace of famous writer Gopal Singh Nepali. Mahatma Gandhi started his famous 'satyagraha' from Bettiah.

To the north of the district is the hilly region of Nepal and to the south is Gopalganj and a part of East Champaran. To its east, it has East Champaran and to the west, it has padrauna and Deoria districts of Uttar Pradesh.

Gandak or Narayani and Sikrahana or little Gandak are the two major rivers of the district. Forests are confined to the northern tract (Sumeshwar and the Dun ranges).

Bettiah Raj was once a great estate and the two kings, Ujjain Singh and son Gaj Singh, received the title of Raja from Emperor Shah jahan (1628). The last Maharaja was Harendra Singh who died issueless in 1893. He was succeeded by his first wife who died in 1896 and then Maharaja's junior widow, Maharani janaki Kuar,became the queen.

Bettiah had indigo planters who were oppressed by the colonial empire, and this resulted in rise of nationalism here. In this connection, freedom fighter Raj Kumar Shukla met Mahatma Gandhi who, in turn, visited Bettiah in 1917 and gradually this region became the hub of Indian nationalism.

Valmiki Tiger Reserve (60 Kms from Bettiah) is one of the major attractions for tourists here.

Places of Interest

Valmiki Nagar
Valmiki Wildlife Sanctuary located in the north western comer of the State in West Champaran district is the prime location for eco-tourists featured onwildlife.
Spread over 900 sq km of forests, this encompasses Valmiki National Park (335 sq km) and also the Valmiki Tiger Reserve with enchanting locales for the enthusiasts of wilderness and deep forests. Contiguous with the Chitwan National Park of Nepal, the tract is a seamless expanse of wilderness and biodiversity heaven in the outermost Terai foothills of the Himalayan landscape and possesses the typical variety of landforms and eco-sites.
The main carnivores in the available faunal community consist of tiger, leopard, wild dog, civet, leopard cat, fishing cat and hyena. The herbivore fauna includes chital, sambhar, gaur and nilgai. The sanctuary is also rich in avifauna and reptiles. A family of rhino from across Nepal has taken residence in the areas along Gandak river. The vegetation and floral biodiversity are equally rich and captivating. This sanctuary being lesser frequented, there are almost virgin locales as if waiting to be discovered by the travelers liking the unseen forest recesses. 

HOW TO REACH

It is well connected by rail route and roadways to almost all the major cities of the country.

By Air:(Air Route Map)

By Rail: (Rail Route Map)

By Road:
Connected by good roads with all Indian cities.

Where to Stay:
Hotel Kishan
Half-a-km from the railway station and bus stand Phone: 233188. AC and non-AC rooms available with tariff ranging from Rs 300 to Rs 1,200.

Hotel Amrapali
Half-a-km from the railway station in the middle of Bettiah town Phone: 242432, AC and non-AC rooms and suites available; tariff ranging from Rs 300 to Rs 1,500.

Hotel New Bharat Jalpan
Lal Bazar, Bettiah, Phone: 242570 Non-AC rooms available for Rs 220-Rs 400. There are also a PWD Inspection Bungalow and a tourist lodge at Valmikinagar.

Local Transport:
Auto rickshaws, Cycle-rickshaws, tangas.

In Emergency,Contact, STD Code : 06243
District Magistrate: 232534
Superintendent of Police: 232563

Medical Emergencies,Contact, STD Code : 06243
R R Memorial Hospital: 99344-09855
Dr Ansumani Shukla (Physician): 233966
Dr DeepakJaiswal (Orthopaedic): 94312-12002
Dr N N Sahi (Cardiologist): 94312-95017
Dr U S Pathak (Physician): 94316-32253
Dr P KTiwary (Surgeon): 94306-89345
Dr Meera Choudhary (Gynaecologist): 242537
Dr Manju Chaudhary (Gynaecologist): 242816
Dr Poonam Sinha (Gynaecologist): 94312-12789

Tourist Season
October to March

Clothing:
Light cotton in summer and woolen in winter (specially during November to January).