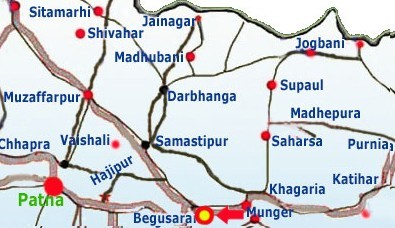 Introduction
Carved out of the old Munger district and notified as a district on October 2, 1972, Begusarai is a major industrial centre of Bihar. Indian Oil Corporation's Barauni Refinery, one of the country's oldest oil refineries, is situated here.
Btraces back its history to the Buddhist period when it was called 'Anguttarapa', as mentioned in Buddhist literature 'Majjhim Nikaya'. There have been evidences of continued habitation here since the Mauryan period. It was an important centre of administration, art and culture during the Pala period.
Places of Interest
Situated 5 km west of Begusarai town on National Highway 31 at a place called Ulao, this temple is more than a century old and is embellished with exquisite murals of rich Rajasthani Shekhawati Art of painting. The theme of the paintings is based on the Ramayana, the Mahabharata and other Hindu epics.

Panch Mandir Barauni Refinery

HERITAGE
Panch Mandir, another temple situated in close proximity to the Radhe Shyam Temple, is replete with Pala-era statues of various gods and goddesses and other artifacts of the same period. The Shivalinga in the temple also belongs to the Pala period.

Museums

The KP Jayaswal Radha Krishna Chaudhary Memorial Archaeological Museum, situated on the local G D College premises, has on display many statues and artifacts found during various archaeological excavations. There's also a Government Museum at Lohia Nagar.

Son of The Soil

Famous Hindi poet, Rashtrakavi Ramdhari Singh Dinkar, belonged to Simaria village in the district. There's a bust of the poet installed in the village to commemorate his contributions to the Hindi literature. The Dinkar Jayanti Samaroh Samiti, of which the Begusarai district magistrate is the ex-officio head, organises a Dinkar anniversary function at the Dinkar Bhawan in Begusarai town every year on September 23. Literary doyens of Hindi from across the country attend the function at which two Hindi litterateurs are feted.

Fairs & Festivals

The month-long Simaria Mela, organised on the bank of river Ganga at Simaria Ghat during October-November every year, draws thousands of devotees from Bhutan and Nepal. The devotees stay in thatched houses and take a dip in the river as there's a widespread belief that a dip in the Ganga during the period washes all sins. The atmosphere becomes supremely religious during the period, and the festivities end with Chhath festival. 

HOW TO REACH 

Distance from Patna: 120 km

By Air:(Air Route Map)

Nearest Airport
Jaya Prakash Narayan International Airport, Patna Private and state transport buses as well as taxis are available from Patna, Muzaffarpur, Bhagalpur and all other important towns of the state.

By Rail: (Rail Route Map)

Nearest Railway Stations
Begusarai Jn is situated on the Barauni-Katihar section of ECR.
Barauni railway station is situated 15 km away from the district HQ.
Hathidah railway station is situated about 20 km away from the district HQ.

By Road:
Connected by good roads with all Indian cities.

Where to Stay:
Guest Houses: The state government, Barauni Refinery, Barauni Thermal Power Station and the Barauni Sudha Dairy have their own guest houses.

Hotel Yuvraj, Barauni, STD Code : 06243 Phones : 265524/264780
AC rooms and suites available with tariff ranging from Rs 1,500 to Rs 3,500
Hotel Samrat, Barauni, STD Code : 06243 Phone : 265534
AC and non-AC rooms available for Rs 180 to Rs 700
Hotel Blue Diamond, Begusarai, STD Code : 06243 Phone : 242181
AC rooms and suites available with tariff ranging from Rs 500 to Rs 1,500
Motel Sayonara, Begusarai, STD Code : 06243 Phone : 244078
Non-AC rooms available with tariff ranging from Rs 325 to Rs 500

WHERE TO EAT

Chilly's, Tahiti Resort, NH 31
Phone: 244786
Celebrations, NH 31
Phone:243776
Ahaar Utsav, Barauni Refinery Township
Phone: 274289
Swayamprabha Restaurant, Motel Sayonara, near Begusarai railway station
Phone: 244078
Jubilee Dhaba, NH 31
Phone: 245973/274269

Local Transport:
Auto rickshaws, Cycle-rickshaws, tangas.

In Emergency,Contact, STD Code : 06243
District Magistrate: 212285 (Off), 200584 (Res)
Superintendent of Police: 213015 (Off), 200519 (Res)

Medical Emergencies,Contact, STD Code : 06243
Dr. M.N. Roy (Surgeon): 212849
Dr. Nalini Ranjan Singh (Ortho): 212877
Dr. Ramashraya Singh (Surgeon): 217281
Dr. K.K.Singh (Physician): 213630
Dr. Binay Kumar (Physician): 218440
Dr. Dinesh Prasad Singh (Physician): 212189
Sadar Hospital: 210002

Tourist Season
October-March as the Simaria Mela is held during the period. Besides, this is the time when Kawar Lake remains abuzz with migratory birds. The temperature is also comfortable except during the period between December-end and mid- January when it's cold.

Clothing:
Light cotton in summer and woolen in winter (specially during November to January).