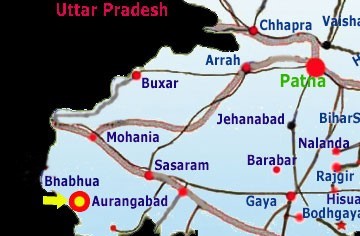 Introduction
Aurangabad district is situated on the Grand Trunk Road. The National Highway-2 passes through the district connecting it to Delhi in the north and West Bengal in the east.
Obra is famous for its carpet and blanket industry. The carpet-weaving tradition here can be traced back to the 15th century with its main hub today being village Koriepur.
India's freedom struggle had many a participant from Aurangabad, and 'Bihar Vibhuti' Anugrah Narayan Sinha, a close associate of Mahatma Gandhi and Rajendra Prasad, hailed from the district. Sinha was also a member of the Constituent Assembly that wrote the Indian Constitution. In post-Independence days, he served the state as its first finance minister

Places of Interest

Deo Sun Temple
Built in 8th century AD by Chandravanshi King Bhairavendra Singh, this is one of the ancient Sun temples of the country. Reference to the temple can also be found in Puranas and other religious texts. The lOO-ft high temple resembles the temple at Konark in its architectural form. A unique thing about the Deo temple is that it faces west unlike the traditional Sun temples which face east. Needless to say, Deo is the place where Chhath, Bihar's most sacred festival devoted to the Sungod,can be best seen.

Daud Khan Fort
This fort is situated at Daudnagar, on the eastern bank of the river Sone. It was founded by Doud Khan, governor of Bihar under the 17th century Mughal emperor Aurangazeb. Governor Doud is said to have stopped and taken rest at the place on his way back from a conquest, and fonded the town named after him. Later, Aurangazeb granted Daudnagar to him. There are an mosque and many 'sarais', built by Daud Khan as well his grandson Ahmed Khan, in the town.

Fairs & festivals
Deo Mahotsava is organised every year near the famous Deo Sun Temple. The two-day extravaganza is held in the month of February-March with artistes, local as well as those of national repute, showcasing their art during the fest. The Mahotsava is also listed in the state tourism calendar.
Jamhor,three km from Aurangabad's Anugrah Narayan Road railway station,is the most sacrosanct place after Gaya for Hindus for offering 'pindsdaan' to their forefathers.The place is situated on the bank of river Punpun.

HOW TO REACH

Nearest Airport
Bodh Gaya International Airport
102 Km form Aurangabad
Jayaprakash Narayan International Airport Patna
126 Km form Aurangabad

By Rail: (Rail Route Map)

Nearest railhead
Anugrah Narayan Road
14 Km from the district HQ
Rafiganj
20 km From the district HQ

By Road:
Regular bus services-both private and government-from Patna.

Where to Stay:
Hotels, Rest houses and Dharmshalas in the Aurangabad Town.
J.K.Hotel Phone No : +91 94302 61426 begin_of_the_skype_highlighting +91 94302 61426 end_of_the_skype_highlighting,Ac Rooms (Rs.550)
Non-Ac Rooms (Rs.250 Single; Rs.350 Double)
Hotel Royal Phones No : +91 93045 01479 begin_of_the_skype_highlighting +91 93045 01479 end_of_the_skype_highlighting, +91 99313 67351 begin_of_the_skype_highlighting +91 99313 67351 end_of_the_skype_highlighting

Local Transport:
Auto rickshaws, Cycle-rickshaws, tangas.

In Emergency, Contact
District Magistrate: 06186-223167 (Off), 223168 (Res)
Superintendent of Police: 06186-223175 (Off), 223195 (Res)
Town Police Station: +91 94318 22231 begin_of_the_skype_highlighting +91 94318 22231 end_of_the_skype_highlighting

Medical Emergencies,Contact
Sadar Hospital: 06186-223183
Dr. Ramashish Singh (Physician): +91 94312 56220 begin_of_the_skype_highlighting +91 94312 56220 end_of_the_skype_highlighting
Dr. Anil Kumar Singh (Surgeon): +91 94312 78953 begin_of_the_skype_highlighting +91 94312 78953 end_of_the_skype_highlighting

Tourist Season
October – November as lakhs of devotees throng the Deo Sun Temple during the period to observe Chhath.
February-April when Dep Mahotsav is organised.

Clothing:
Light cotton in summer and woolen in winter (specially during November to January).