Introduction The ancient town in Bihar was once home to the world's first university for higher learning. Nalanda is about 90 km southeast of Patna. Nalanda means "giver of knowledge". 
The university at Nalanda began as a Buddhist monastery. Lord Buddha stayed at Nalanda several times in the local mango grove.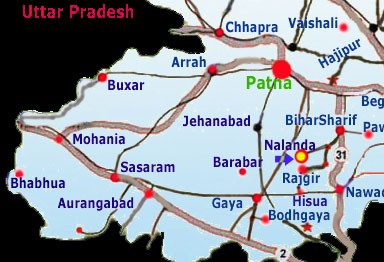 Lord Mahavir is also believed to have attained 'moksha' at Pawapuri, which is located in Nalanda. Also, according to one sect of Jainism, he was born in the nearby village, Kundalpur.
Interestingly, there's a Nalanda Buddhist Centre (NBC) in Brazil. Set up in 1989, the centre was so named as a tribute to the great legacy of Nalanda, The NBC was the second Theravada Buddhist tradition centre set up in Brazil 22 years after the Sri Lankan temple was first established.
Places of Interest
WHAT TO LOOK FOR
Ruins of ancient Nalanda

The university of Nalanda was established in 450 AD under the patronage of the Gupta emperors, notably Kumaragupta. It was one of the world's first residential universities. Its dormitories accommodated over 10,000 students and 2,000 teachers.
The Nalanda varsity had eight separate compounds and ten temples besjdes many meditation halls and classrooms. There were also lakes and parks. The subjects taught at the university covered every field of learning, and it attracted pupils and scholars from as far as Korea, Japan, China, Tibet, Indonesia and Turkey, among other countries.
Chinese pilgrim Xuanzang has given a detailed account of the university. The terracotta seal of Nalanda University has been put on display in the ASI Museum at Nalanda.

Pawapuri

Lord Mahavir attained 'nirvana' (salvation from the endless cycle of life and death) at Pawapuri,and thus the placeis a holy site for Jains.It is located 38 km from Rajgir in Nalanda district and 90 km from Patna,and it was here that Lord Mahavir,the last of the 24 Jain Tirthankars,breathed his last around 500 BC. He was cremated at Pawapuri,also known as APapuri (the sinless town).
There was a great rush to collect his ashes,and, as a result, so much soil was removed from the place of his cremation that a pond was created.Now, an exquisite marble temple, Jalmandir, stands magnificently on a rectangular island in the middle of the pond.
There's another Jain temple, Samosharan, here. This is the placewhere Lord Mahavir delivered his last sermon

Kundalpu
Just 1.6 km from the ruins of Nalanda is this place called Kundalpur. The Digambar sect of Jains believes that the 24th and the last Tirthankar, Lord Mahavir, was born here. There are many Jain temples in this village.

Multimedia Museum

India's first multimedia museum was opened here on January26, 2008. It has a section that recreates the history of Nalanda using a 3D animation film with narration by TV and movie actor Shekhar Suman. There are four more sections in the Multimedia Museum Geographical Perspective Historical Perspective,Hall o Nalanda and Revival o Nalanda.

Archaeological Survey of India (ASI) Museum
Nalanda,the archaeological museum set up in 1917, housesthe antiquities,mainly those excavated from the earliest university cum monastery complex at Nalanda and from Rajgir. Out of 13,463 antiquities, 349 are on display in the four galleries of the museum. The antiquities from Nalanda are datable from 5th to 12th century AD but some of those from Rajgir are a little older. The sculptures kept in this museum are made of stone, bronzes, stucco and terracotta but majority of those have been carved on basalt stone.
Most of the idols belong to the Buddhist faith but there are also those belonging to Jain and Hindu religions.
A scale model of excavated remains of Nalanda university occupies the central place of the hall. There are 57 idols and sculptures displayed in the first gallery.
Opening hour:10 am to 5 pm
Friday closed
Entrance fee: Rs 2 per head
Free entry for children up to 15 years

Xuanzang Memorial Hall

A memorial has been built and named after the Chinese traveller and scholar monk, Xuanzang, who was a student at Nalanda and subsequently became a teacher at the ancient Nalanda Mahavihara.The magnificent hall is located barely 1.3 km away from the ruins of Nalanda.
It was in January 1957 that India's first prime minister Jawaharlal Nehru, on behalf of the government of India, received the relics of Xuanzang along with his biographyand an endowment for the construction of a hall in his memory from His Holiness the Dalai Lama and the Panchen Lamaof Tibet. The initiative was aimed at enhancingthe cultural relationship between India and China. The construction work started in 1960 and was completed in 1984. The relics of Xuanzang have been preserved in the Patna Museum.

HOW TO REACH
The road between Patna and Ragir-Nalanda-Pawapuri is in excellent condition. Private and state transport buses ply between Patna and Biharsharif, the district HQ town of Nalanda. Tempos or horse-driven carts can be hired from Biharsharif for Rajgir. Alternatively, one can hire a taxi from Patna to Rajgir-Nalanda-Pawapuri. There's also a direct train between Delhi and Nalanda. Called Shramjeevi Express (2391 Up/2392 Dn), it runs via Patna.

By Air:
Nearest Airport
Loknayak Jayaprakash Narayan International Airport, Patna, 100 km away.


By Rail:

Nearest railhead
Nalanda.

By Road:
Connected by good roads with all major cities of India.

Where to Stay:
There are several hotels in and around Rajgir. Apart from hotels, tourists can opt for tourist bungalows or government-owned hotels or guest houses
Indo-Hokke Hotel (3-star facilities), Phone: 255231, Fax: 255245
Rajgir Residency (2-star facilities), Phone: 255404, Fax: 255405
Hotel Tathagat Vihar, Phone: 255176, Fax: 255176
Hotel Siddhartha, Phone: 255216, Fax: 255352
Emergency, Contact
Nalanda District Magistrate: 235203, 235204, Fax: 235205
Nalanda Superintendent of Police: 235207, Fax: 233978
Rajgir Dy Superintendent of Police: 255461
Rajgir Police Station: 255258
Medical Emergencies, Contact Rajgir Hospital: 255102

Local Transport:
Auto rickshaws, Cycle-rickshaws, tangas.

Tourist Season
From October to February. From mid-December to the end of January, temperature here ranges from 5 degree C to 15 degree C. May and June are hot and the mercury goes up to 46 degree C. It's monsoon time towards the end of June.

Clothing:
Light cotton in summer and woolen in winter (specially during November to January).