Introduction
Muzaffarpur's recorded history dates back to the rise of Vajji republic, a confederation of eight clans of which the Lichchhavis were the most powerful and influential. The unity among the Lichchhavis was so strong that the royalty of even the powerful kingdom of Magadh had to go for matrimonial alliances with members of the Lichchhavi clans in 519 BC.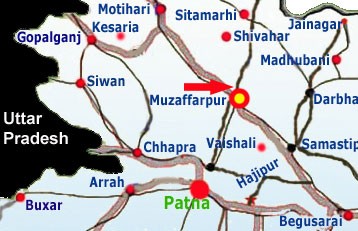 Besides being a seat of one the oldest republics of the world, Muzaffarpur is also believed' by some Jains to be the birthplace of Lord Mahavir, the 24th Jain Tirthankar. Also, this is the place where Gautam Buddha delivered his first sermon after attaining enlightenment at Bodh Gaya. Lord Mahavir and Lord Buddha were contemporaries. 

The birthplace of Lord Mahavir at Baso Kund under the Saraiya block of Muzaffarpur district has a full-fledged Prakrit Institute which attracts visitors, mainly followers of Jainism, from abroad. Ambarati, which is believed to be the village home of Amrapali, the famous cour dancer of Vaishali, also attracts many. It is 40 km away from Muzaffarpur town. 
Muzaffarpur also boasts of having maintained communal harmony since the medieva period. Not a single Hindu-Muslim riot has ever taken place in Muzaffarpur 
The place is also associated with the first bomb exploded during India's freedom move ment. The bomb was exploded by a young revolutionary from Bengal, Khudiram Bose, all of 1 years, with the help of his companion Prafulla Chandra Chaki. Khudiram threw the bomb at the horse-driven carriage of Pringle Kennedy, mistaking him for Muzaffarpur's district judge Khudiram was captured near the Pusa Road railway station and subsequently hanged to death in the Muzaffarpur jail. Post-freedom, the railway station and the jail have been named afte Khudiram. 
Muzaffarpur is famous all over the world for the Shahi litchi grown here. It is because of the unique soil in Bochaha and Mushahari blocks of the district that Shahi litchi has a scent and sweetness which is not found in any other variety of the fruit.
Places of Interest
Litchi gardens of Bochaha, Jhapaha and Mushahari from the first week of April to the second week of May. They are located in a radius of five to seven km from Muzaffarpur.
Jubba Sahni Park, Gandhi Koop on L S College campus, Kamal Shah Mazaar in Purani Bazar, Garib Sthan Mandir, Ramna Devi Mandir and Baglamukhi Mandir in Kachchisarai, all in Muzaffarpur town, are also worth seeing.
One can also visit the National Litchi Research Centre at Rahua, five km from Muzaffarpur town, to know more about litchi.


HOW TO REACH

By Air:

Nearest Airport
The distance between Muzaffarpur and Patna is 60 km, and one can take a bus or hire a taxi from Patna to reach Muzaffarpur.

By Rail:

Nearest railhead
Muzaffarpur

By Road:
Connected by good roads with all Indian cities.

Where to Stay:
State Tourism Corporation's and Private Hotels, Rest houses and Dharmshalas at Muzaffarpur
Hotel Elite, Phone: 0621-2245353
Hotel Lichchhavi, Phone: 0621-2268512
Chandralok Continental, Phone: 0621-2245911
WHERE TO EAT There are several motels and dhabas in and around Muzaffarpur.

Local Transport:
Auto rickshaws, Cycle-rickshaws, tangas.

In Emergency, Contact
District Magistrate: 0621-2212101
Superintendent of Police: 0621-2217797
Town Police Station: 0621-2245252

Medical Emergencies,Contact
Dr. Birendra Kishore (Surgeon): 0621-2212485
Dr. T.K.Jha (Physician): 0621-2261425
Dr. B.B.Thakur (Physician): 9431238285
Dr. Rangila Sinha (Gynaecologist): 0621-2213938

Tourist Season
October to March.

Clothing:
Light cotton in summer and woolen in winter (specially during November to January).