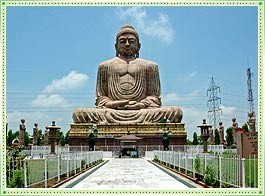 Bodh Gaya or Bodhgaya is a religious place in Gaya district in the Indian state of Bihar. It is famous for being the place of Gautama Buddha's attainment of Enlightenment.

Historically, it was known as the Bodhimanda (ground around the Bodhi-tree), Uruvela, Sambodhi, Vajrasana and Mahabodhi.

(1) The name Bodh Gaya did not come into use until the 18th century. The main monastery of Bodhgaya used to be called the Bodhimanda-vihara (Pali). Now it is called the Mahabodhi Temple.

For Buddhists, Bodh Gaya is the most important of the main four pilgrimage sites related to the life of Gautama Buddha, the other three being Kushinagar, Lumbini, and Sarnath. In 2002, Mahabodhi Temple, located in Bodh Gaya, became a UNESCO World Heritage Site.

(2) The surrounding town, by contrast, is dusty, noisy and somewhat polluted, due in large part to a lack of proper administrative structural coordination and rampant local corruption.

(3) A new development plan has been proposed to "ensure a sustainable and prosperous future" for Bodh Gaya, but has become controversial because such a plan may require the relocation of whole neighborhoods.

Bodh Gaya is the place where Gautam Buddha attained enlightenment under the sacred Asvatta tree (later termed Bodhi Tree). Buddhists all across the world consider the place the most sacred and this has become a pilgrim destination for them. Buddhists from all over the world have built temples here in Bodh Gaya. Bodh Gaya is located about 13 km from Gaya, 90 kilometers away from Patna, and 450 km west of Kolkata. 

Bodh Gaya houses a splendid and magnificent Mahabodhi temple and the temple has Bodhi Tree. Both the temple and the Bodhi Tree are sacred for Buddhists across the globe. The temple is an architectural amalgamation of many centuries, cultures, and heritages. While its architecture has a distinct stamp of the Gupta era, it has later ages inscriptions describing visits of pilgrims from Sri Lanka, Myanmar, and China between seventh and 10th century AD. It is perhaps still the same temple Hieuen Tsang visited in 7th century. 

In the year 1953, Bodh Gaya revisited its glory. A new stupa with the help of Japanese governments' donation was built in Gaya. Buddhists from Sri Lanka, Thailand, Myanmar, Bhutan, Korea, and Japan often visit to Bodh Gaya. Now one can see many Buddhist monasteries in and around the complex. Tourism peaks during winter season. 


How to Reach Bodh Gaya:

Bodh Gaya is included in four most important pilgrim destinations where a Buddhist has to visit in lifetime. Bodh Gaya is the place where Gautam Buddha attained enlightenment. Bodh Gaya today attracts tourists from all across the globe including of Korea, Japan, Singapore, Myanmar, and Sri Lanka. All the modern mode of transport connects the place with other places of the country. Easy accessibility makes this place a popular tourist destination.

By Rail:
A good railway network connects Bodh Gaya with other major cities of India. A whole range of trains is available to reach Bodh Gaya. Gaya is the nearest railhead to Bodh Gaya at the distance of 17 kilometers. Besides ordinary trains, Indian Railway has introduced a Bodh Gaya special 'Buddha Parikrama Express' specifically meant to cater Buddhist spiritual tourists. The train links all the important places relevant to Buddhists. 

By Road:
Besides a good network or railway tracks, Bodh Gaya is well connected by roads to various cities of India. The main bus stand is near Sujata Bridge on the bank of Falgu River on the northeastern edge of the town. Gaya is the nearest transport hub which is connected with Grand Trunk Road and from where you can catch direct busses to reach Patna, Nalanda, Rajgir and Varanasi. Bihar State Tourism Development Corporation also runs buses from Patna- Bodhgaya route twice a day. 

By Air:
Gaya is the nearest airport from Bodh Gaya. It is located at a distance of 17 kilometers. Various domestic airlines operate from Gaya to other metro cities of India. You can also land at Patna and board taxis and buses to reach Bodh Gaya which is around 135 kilometers from Patna.

Bodh Gaya Tourist Attractions:

Bodh Gaya, being the place where Gautam Buddha had learnt the eternal truth, is a popular tourist destination among Buddhists across the globe. There are a number of Buddhist monuments, temples and monasteries to see in Bodh Gaya.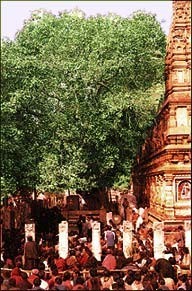 Bodhi Tree
Contrary to general belief the existing Bodhi Tree is not the original Bodhi Tree under which Sidhartha Gautam had enlightenment. The existing tree is of fifth generation of original Bodhi Tree.

Gurpa
Gurpa is located forty kilometers from Bodh Gaya. Gurpa is a small village, albeit important for Buddhists. According to Buddhist literature Maha Kassap, the disciple of Lord Buddha realized that his death was nearing and he started moving toward the hill where he wanted to take his last breath.

Mahabodhi Temple
The fifty meter high Mahabodhi Temple was built during the rule of the Guptas in the 5th century. This temple is considered among the oldest in Indian sub-continent temples.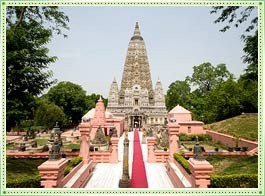 Pragbodhi
Pragbodhi is the place where Lord Buddha spent some time before attaining enlightenment. The place is evidence of Gautam Buddha's efforts toward the eternal truth.

Bodh Gaya Weather:
The city of Bodh Gaya is located at an altitude of 24º 41′ 45" N. Latitude and 85º 2′ 22" E. Longitude. Let's have a quick look at the weather and climatic conditions of Bodh Gaya.