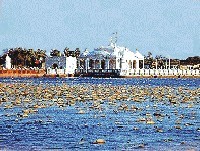 Founded in the 5th century BC, Nalanda was one of the world's great universities and an important Buddhist centre. When renowned chinese scholar and traveller Hieun Tsang visited Nalanda between 685BC and 762BC, 10,000 monks and students resided here. Nalanda was frequently visited by Lord mahavira and lord Buddha in the 6th century BC.

Patna, 90 km away is the nearest airport. Nalanda can be reached by rail and road from other major towns of Bihar.

Nalanda university archaeological complex
The entire excavation area stretches to around 14 hectares. The buildings are divided by a central walkway that goes north to south. On either side of this walkway one can find monasteries and temples. A small chapel retains a half broken statue of the Buddha.

The Nalanda archaeological museum
This place houses the Nalanda university seal, sculptures and other remains found at the site. It also contains a number of small Buddhist and Hindu bronzes and some undamaged statues of the Buddha.

Nava Nalanda Mahavira
This is a relactively new institute, which is devoted to the study of pali literature and buddhism. A number of foreign students come here to study.

Hieun Tsang memorial hall
One of the newest buildings here, it was built as a peace pagoda by the chinese. Hieun tsang spent 5 years here as student and teacher.