As long ago as the 6th century BC, Vaishali was the capital of a republic. it is credited with being the world's first republic to have elected member of an assembly. Mahavira, the founder of jainism, was born here, and the Buddha preached his last sermon here. It also has a small musuem.

Regular bus services connect Vaishali to Patna (55 km). Nearest railheads are Hajipur (35 km) and Muzaffarpur (36 km). Nearest airport is Patna.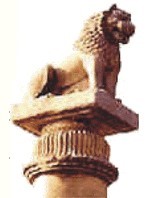 The Lion Pillar at Kolhua, was built by Emperor Ashoka. It is made of a highly polished single piece of red sandstone, surmounted by bell shaped capital, 18.3m. high. A life-size figure of a lion isplaced on top of the pillar. The pillar is well-preserved and intact. There is a small tank here known as Ramkund. One can also find a few dilapidated stupas in Vaishali.