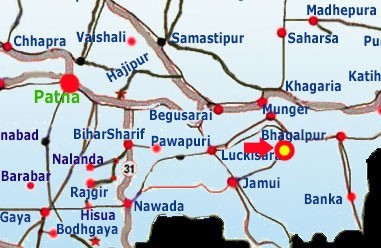 Introduction
Bhagalpur is one of the oldest districts of Bihar, located in the eastern part of the state. It was once rated among the six best silk-producing Indian cities, and is still known as 'Silk City'. Here, the river Ganga flows towards the north and is, therefore, referred to as 'Uttarvahini Ganga'.
One of the major industries here is the power generation unit of National Thermal Power Corporation. The power plant is situated at Kahalgaon, nearly 30 km from Bhagalpur district HQ town. Bhagalpur is well-connected by rail to most parts of the country, and is a major station between Kiul Junction and Howrah on the Delhi-Patna-Kolkata route.
WHAT TO LOOK FOR

Kuppa Ghat

Also known as Mehi Ashram, it was founded by revered Hindu saint Maharshi Mehi Das. Situated on the bank of river Ganga, it is an epitome of peace and serenity and it is a divine experience to spend time here.

Jain temple The famous temple of Vaasupujya Bhagwan Mahavir Jain is located at Nathnagar, and it attracts thousands of tourists and Jain devotees from across the country.


Karngarh

Situated in the Nathnagar area on the outskirts of Bhagalpur city, it used to be the abode of King Kama. The grandiosity with which Dussehra puja is organised here is to be seen to be believed.

Burhanath Temple

Situated on the bank of river Ganga in Jogsar locality, this ancient Lord Shiva temple, known to command mystic energy, attracts people from different walks of life. It is also known as Dudheshwara Mahadev Temple.

Khanqah-e-Shahbazia

Situated at Mulanachak, near the Bhagalpur railway station, it has been an important reli- gious place and seminary of the Muslim community since the Mughal era. A rich library having books on Arabic and Persian theological works is also there at Khanqah-e-Shahbazia. It has a Holy Quran transcribed by Murshid Quli Khan, the Nawab of Murshidabad.

Ghuran Peer Baba

Situated near the Kutchery Chowk, the place is famous among followers of all faiths. Muslims, Hindus, Sikhs as well as others assemble here every Friday to seek the blessings of 'Peer Baba', who is believed to command sacred powers.

Mandar Hill

Nearly 50 km from Bhagalpur at Bounsi on Bhagalpur-Dumka state highway, the site is associated with' a legend according to which this is the mountain that was used for 'Amrit Manthan' (to churn the ocean for procuring nectar). The legend has it that a 'naag' or snake was tied around the mountain to churn the ocean, and people believe the snake that was used as a rope has left an impression on the hill. A month-long Bounsi Mela is organised on the foothills of Mandar every year. Mandar Hill is equally revered by Jains who believe that their 12th Tirthankar attained 'nirvana' here.

Ajgaibinath Temple Situated nearly 39 km from Bhagalpur city at Sultanganj on the bank of river Ganga, Ajgaibinath Temple of Lord Shiva is visited by lakhs of devotees through out the year. The rush is huge during the Shravan month of Hindi calendar. During the month-long Shravani fair, people pay obeisance to Lord Shiva before proceeding to another temple at Deoghar in Jharkhand. They also collect holy water from the river Ganga here and carry it to Deoghar for offering it on the 'Shivalinga' in the Deoghar temple.

Yogini Dham

Nearly 100 km from Bhagalpur in Godda district, it is a famous rel gious place of Goddess Durga. The original temple is situated on the mountain, and the route to the temple is a replica of the famous Vaishno Devi cave in Jammu. Hindus believe that people's wishes are fulfilled after a visit to the temple and that the sick are cured after they lie down on the platform of the temple.

Ruins of Vikramshila University Situated at Antichak in Kahalgaon sub-division, 38 km from Bhagalpur, ancient Vikramshila University was hailed as an epitome of learning and civilization during the Pala dynasty period of 783-820 AD. The university was established by King Dharampala of the Pala dynasty of the then Bengal province (now Kahalgaon) in the year 783 AD.

Museum

There's a museum at Sandy's compound which remains open from 10.30 am to 4.30 pm every day except Monday. Entry is free.

FAIRS & FESTIVALS

Bihula-Bishahari Puja or Mansa Puja

It is a local festival held' at Nathnagar every July. Snakes are worshipped at the Bishahari Sthan which is believed to be the site where a devout lady's dead husband became alive.

Durga Puja

It is celebrated with typical Bengali fervour. Broari (community) style of puja at Durgabari and Kalibari, which is famous among the traditionally rich Bengali community, attracts people from far-off places.

Kali puja

Bhagalpur's Kali puja is also quite famous. 'Akharas' (mock display of traditional combat art and martial art) are taken out on the roads as part of the idol immersion processions.
HOW TO REACH
By Air:(Air Route Map)
Nearest Airport
Nearest airport: Patna Bhagalpur is prominently there on the Indian Railways' map, and there are trains from all major stations, including Patna,to Bhagalpur.While the rail route distance between Bhagalpur and Patna is 223 km, it's 240 km by road. Private taxis can be hired from Patna to go to Bhagalpur. Taking a train to the Silk City is wiser, though.
The rail route distance between Bhagalpur and Kolkata, capital city of West Bengal, is 456 km while it's 465 km by road.
By Rail: (Rail Route Map)
Nearest railhead
Bhagalpur.
By Road:
Connected by good roads with all Indian cities.
Where to Stay:
Private Hotels/Guest Houses and Dharmshalas are available at Bhagalpur.
Hotel Rajhans International, STD Code: 0641, Phone: 2409411-15, 2300507; Fax: 2400816
AC and non-AC rooms and suites available with tariff ranging from Rs 500 to Rs 2,495
Hotel Nihar, STD Code: 0641, Phone: 2400516, 2400336, 9304236321
email: niharhotel@rediffmail.com
AC and non-AC rooms and suites available with tariff ranging from Rs 400 to Rs 1,500
Hotel Panchwati, STD Code: 0641, Phone: 2401023, 2401027, 2420494; Fax: 2421285
Email: krishnasic@rediffmail.com
AC and non-AC rooms and suites available with tariff ranging from Rs 400 to Rs 1,100.
Hotel Bhawan International, STD Code: 0641, Phone: 2408010, 2408011, 2426219, 9430021760
Email: hotel_bhawna@yahoo.co.in
AC and non-AC rooms and suites available with tariff ranging from Rs 599 to 1,800.
Hotel Sriyash Regency, STD Code: 0641, Phone: 2409397, 2409485
Email: sukulsanjoy@yahoo.com
AC and non-AC rooms and suites available with tariff ranging from Rs 599 to 1,800.
Single & double AC rooms & AC suites available with tariff ranging from Rs 1,200 to 2,085
Besides, there are several other budget hotels, guest houses & dharmashalas at Bhagalpur.
WHERE TO EAT
Royal Darbar: 9431422219
Mayfair: 2403853
The Treat: 9934877541
Hot Bits: .2420579
Big Bite: 2306857
Adarsh Jalpan: 2420524
Manali: 2303077
Local Transport:
Hired taxis/buses/Auto-rickshaws/ Cycle-Rickshaws/ Tangas.
In Emergency, Contact, STD Code: 0641
Inspector General of Police: 2400101, 2400901
District Magistrate: 2400012 (Off), 2401202 (Res), 9431213543 (Mobile)
Superintendent of Police: 2400103 (Off), 2401003 (Res), 9431800003 (Mobile)
Dy SP (Law & Order): 2420853 (Off), 2420824 (Res), 9431822601 (Mobile)
Kotwali Police Station: 2421302, 2461901
Police Control Room: 2400701, 100
Medical Emergencies,Contact, STD Code: 0641
Dr. S.N.Jha: 2400096, 2421752, 9431214233
Dr. B.K.Sinha: 2420710, 2422160, 9431214212
Dr. Manoj Kumar Jha: 2422144, 2424755
Dr. Mrityunjay Kumar: 2422077, 2420823, 9431214115
There are more than 50 nursing homes, private hospitals and clinics of different special- izations apart from a government hospital and Jawaharlal Nehru Medical College Hospital (JLN- MCH) at Bhagalpur.
Tourist Season
October to March.
Clothing: Light cotton in summer and woolen in winter (specially during November to January).