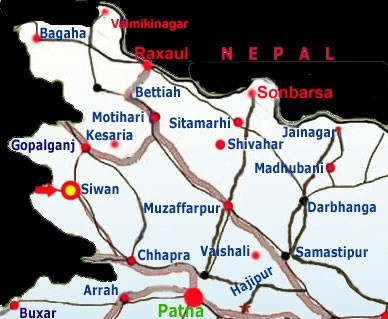 Introduction
Once a part of Saran district, Siwan became a separate district in the year 1972. This is the native district of India's first president Dr. Rajendra Prasad.


The district is known for its ancient temples.A large number of devotess assemble at Mehdar temple or Anand Bagh Math and Sunder Bagh Math.People also throng Faridpur to have a glimpse of Ashiana,the house of Maulana Mazharul Haq,an eminent Bihari who stood for Hindu-Muslim unity.

Places of Interest
Zeeradei
Situated about 13 km from the district headquarters,zeeradei is known as the birthplace of India's first president Dr. Rajendra Prasad,who was later conferred Bharat Ratna. Popularly called Rajendra babu by his friends and followers, Dr Prasad was a symbol of simplicity,truth and dedication.

Ashiana
This place is known as the native residence of Maulana Mazharul Haq,one of the greatest freedom fighters of the country and a symbol of Hindu-Muslim unity

Anand Bagh Math & Sunder Bagh Math
Situated at Bakhri village in Siswan block of Siwanthe two temples are in fact "samadhi sthals" of two renowned saints,Swami Jaggannath Das ji and his guru Bhagwan das ji.Both the temples are located near the Daha river and thousands of devotees visit these temples every year.On auspicious days,there's a huge rush of people as devotees from far flung places like Uttar Pradesh,West Bengal and New Delhi besides saran,Gopalganj,Jehanabad and Ara in Bihar come here.

Mahendra Nath Temple

Situated in Mehdar village under Siswan block, about 32 km south from the district headquarters, Mahendra Nath temple of Lord Shiva attracts visitors,including foreigners, from far flung areas.

Raghunathpur
Situated about 27 km south from the district head quarters,Raghunathpur is the place where Lord Rama is believed to have taken rest after killing demon Tarka near Buxar.Later, Lord Rama proceeded to Janakpur Dham after crossing river Saryu.

Bhikhabandh
This place symbolises the affectionate relationship between a brother and his sister.There exists a temple of brother-sister at Bhikhabandh village under the Maharjganj block of the district.According to folklore,a brother and sister laid down their lives fighting Mughals in the 14th century

Panchmukhi Shivalinga
There's an old Shiva temple in Mahadeva locality of Siwan town which houses a "panchmukhi" or five faced Shivalinga. Locals insist the Shivlinga in the temple come out of the earth.One can also see the faces of Brahma,Vishnu and Mahesh on the Shivalinga. Hundreds of devotees throng this temple every day.On Mahashivratri,a fair is also held here.
Burhiya Mai Temple
Located on east-northern portion of Gandhi Maidan in Siwan town, this temple draws huge crowd of devotees, especiallyon Saturdays.Locals believe one's wishes are fulfilled after worshipping the deity here. Offerings include new saris,fruits,flowers and coconuts.
HOW TO REACH

By Air:

Nearest Airport
Jayaprakash Narayan International Airport, Patna (146 kms) .

By Rail:

Nearest railhead
Siwan district HQ town is about 146 km in north from Patna, the state capital of Bihar. One can reach Siwan by road. A number of buses plybetween Patna and Siwan.One can also hiretaxi.

By Road:
A number of buses play between Patna and Siwan.One can also hire taxi.

Where to Stay:
Hotels, Rest houses and Dharmshalas in the Siwan Town.
Hotel Siwan International,station Road,Phone:-06154-223195
Prkash Hotel,Babuniya Mor,Phone:-06154-228182
Crown Hotel,Babuniya Mor,Phone:-06154-223449
Shanti Niwas,Babuniya Mor,Phone:-06154-242627

Local Transport:
Auto rickshaws, Cycle-rickshaws, tangas.

In Emergency,Contact:
District Magistrate: 06154-242099(Off) , 242098(Res)
Superintendent of Police: 242060(Off),242366(Res)

Medical Emergencies,Contact
Dr. Rajendra Prasad Singh: 06154-242269
Dr. J. N. Prasad: 06154-242437
Dr. H. K. Shah: 06154-242040
Dr. J. N. Prasad: 06154-241035

Tourist Season:
October to March.

Clothing:
Light cotton in summer and woolen in winter (specially during November to January).