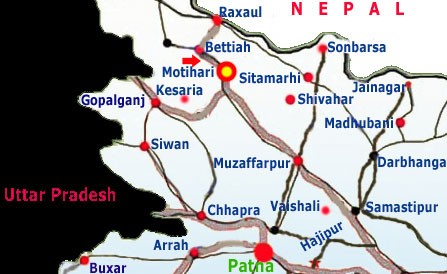 Introduction
Motihari is a town steeped in history.When the British carved out the district of Champaran from Saran in the later part of the 19th century. Motihari was made its headquarters. After the creation of West Champaran district with Bettiah as its headquarters in 1972, Motihari continued as the headquarters of truncated East Champaran. 
Motihari holds its eminence as the birth place of famous writer George Orwell,born Eric Arthur Blair,and of Mahatma Gandhi's Champaran Satyagraha. 
Places in and around Motihari have had an older link:Buddhism.The world's tallest stupa is at Kesaria,just an hour from Motihari. Motihari,thus,is a crucible of both the Gandhi and Buddhist circuits. 
A museum and a stone pillar are there to commemorate Mahatma Gandhi's links with Motihari.Gandhiji's courageous statment given before a magistrate is inscribed here on a stone.The 48-ft tall Chunar stone pillar stands exactly on the place where Gandhi was prouced before the court of the sub-divisional magistrate on April 18,1917 for violating prohibitory orders. 
Mahatma Gandhi's first Satyagraha was experimented on the soil of Motihari in the Champaran district and,thus,Champaran has been the starting point of India's independence movement launched by Gandhi.
Places of Interest
WHAT TO LOOK FOR
Gandhi Sangrahalaya
It has on display an array of photographs and relics of the Champaran satyagraha.

Schools started by Gandhi
The schools started by Mahatma Gandhi in the village of Barharwa Lakhensen and Madhuban are among other important sites of interest in the vicinity of Motihari.

Kesaria
There's a stupa at Kesaria near Motihari which is said to be the tallest and the largest Buddhist stupa in the world.It was discovered in 1998 through excavation by the Archaeological Survey of India.

The stupa's height is 104 feet,which is far less than its reported original height.Yet,it is one ft taller than the famous Borobodur stupa in Java.Legend has it that Buddha,on his last journey,is reported to have spent a memorable night at Kesaria,where he reportedly made some historical revelations.These were later recorded in a Buddhist Jataka story

Orwell's birth place

George orwell,one of the greatest writersof twentieth century and author of famous books like 'Animal Farm' and 'Nineteen Eighty-Four',was born in Motihari in 1903.His father Richard walmesley Blair was a deputy posted in the opium department in Bihar.The cottage,where the famous author was born,lies in the midst of the town.A plaque commemorating has birth place stands outside the house.

Areraj Temple
A little away from Motihari lies the temple town of Areraj.The Shiva temple here is a popular pilgrim site.Also at Areraj lies an Ashokan pillar attracting tourists throughout the year.

Lake Town
Motihari has a picturesque lake-Motijheel-running through it.HOW TO REACH

By Air:

Nearest Airport
Motihari has a railway station. But it is advisable to travel to Motihari by road from Patna. Buses and taxis are available. The distance between Patna and Motihari is 160 km.

By Rail:

Nearest railhead
Motihari

By Road:
A number of buses play between Patna and Motihari.

Where to Stay:
Hotels, Rest houses and Dharmshalas in the Motihari Town.
Aarti Hotel,Main Road,Phone: 06252-290664,09304255459
ACjnon-AC rooms are available for Rs 150 to Rs 1,000. Food is also served here.
Hotel Shakti,Chhatauni Road,Phone: 06252-235715
ACjnon-AC rooms available. Tariff ranges from Rs 250 to Rs 900.
Hotel Monica,Madhuban Chhawni Chowk,Phone: 09430255419
ACjnon-AC rooms available. Tariff ranges from Rs 250 to Rs 900.
Hotel Divya Raj,Madhuban Chhawni Chowk,Phone: 06252-241777
ACjnon-AC rooms available. Tariff ranges from Rs 250 to Rs 1,400.

Local Transport:
Auto rickshaws, Cycle-rickshaws, tangas.

In Emergency,Contact:
District Magistrate: 06252-222695(Off) , 242800(Res) 9431811222 (Mobile)
Superintendent of Police: 222684(Off),232683(Res) 9431822988 (Mobile
Sub-Divisional Police Officer: 222923(Off),9431800068(Mobile)

Medical Emergencies,Contact
Dr.Shambhu Saran(Cardiologist): 9431233077
Dr.Ashutosh Saran(Surgeon): 9431233123
Dr. Jasbir Saran(Gynaecologist): 9431434954
Dr Shekhar Verma (Dentist): 9431434954
Dr. J. N. Gupta(Physician): 9431233022

Tourist Season
October to March.

Clothing:
Light cotton in summer and woolen in winter (specially during November to January).